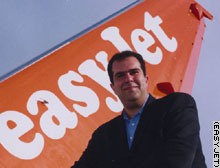 Sir Stelios now ex-board member of the airline he founded, has blown another gasket on the long running battle of the to expand or not to expand. In the London Based Sunday Times yesterday easyJet founder Sir Stelios Haji-Ioannou is objecting to the airline's use of outside aircraft. Earlier this month, easyJet chartered a Titan Airways Boeing to cover one of its own aircraft that had a technical fault. Sir Stelios has written to easyJet claiming its use of aircraft not carrying the easyJet name and livery breaches its brand agreement.
But Shhhhhhhhhhhh there are actually two of them - both 757s leased in from other airlines.
So Sir Stelios if you would like to look at them - in glorious colour - here is where you can see both of them:
Titan Airways comes without
winglets
.
Air Finland also has one painted in
Easyjet colours
.
This is not really a case of a technical fault - it was that they just ran out of capacity and it was clearly planned since it was covered in the professor's
blog
on June 11th.
Cheers